Last Updated on February 23, 2022
Have no clue about where to create your Twitch channel sub badge?
A prominent channel design is one of the most important aspects of a Twitch channel entailing success. Some premade templates can be found at sites like OWN3D or Etsy. But there's also the alternative of creating your own sub badges with available sub badge makers.
What is The Best Twitch Sub Badge Maker?  
Below you'd find our list of the best Twitch sub badge maker tools available online this year:
1. OWN3D
If you want your sub badge to look classical and professional, OWN3D's sub badge maker should definitely be the right tool for you. OWN3D offers a vast variety of resources for Twitch channel designs, from stream packs to premade sub badge packs, as well as a Twitch sub badge maker.
It's one of the simplest to use sub badge makers, and it's easy to create unique looking Twitch sub badges in very little time with it.
It does however lack more options of customization, and a lot of the used icons are common clip-art, which takes away from the uniqueness of the sub badges.
How to Use OWN3D to Make a Sub Badge:
Step 1: Go to the site's Badge Maker and pick a favorite template from the base for your sub badge.
Step 2: You can choose the elements for each one of your 6 badges, from icons. The element can be an Icon, a Number, or a Character.
Step 3: Pick a color for each one of your badge elements.
Step 4: Click the 'Generate Badges Now' button to complete the purchase process and download your badges (since OWN3D always has a sale on, do make sure to apply a discount coupon).
Step 5: Add the sub badges to your twitch account.
Pricing:
$85.99 for the full Twitch sub badge set.
$43 with a discount code (OWN3D usually has some discount codes available for use)
Pros of OWN3D:
Very accessible and easy to use for everyone, which will make the creation of your Twitch sub badges a quicker process.
The optimization of the files allows them to be uploaded to Twitch straight away after they're downloaded.
2. EmotesCreator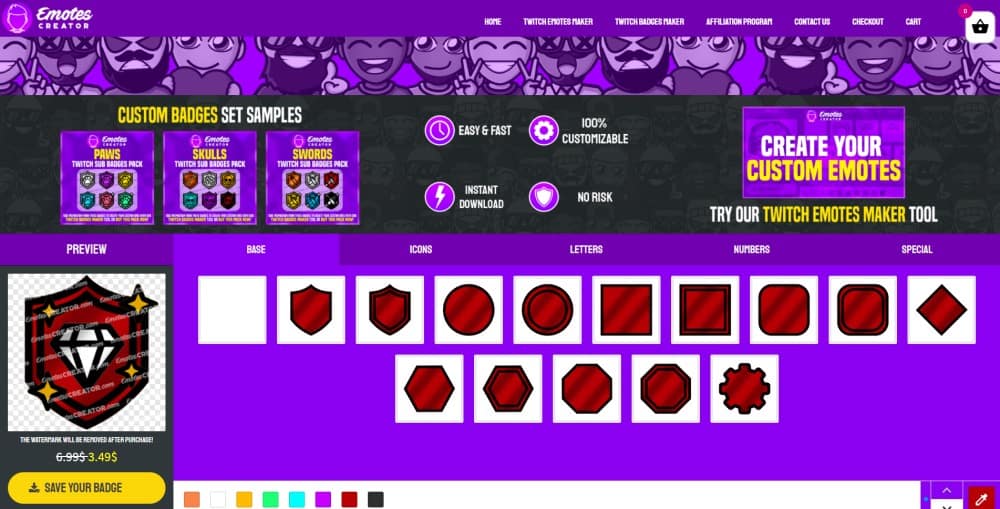 Not everyone has mastered tools like Adobe Illustrator, so it may be pretty difficult to make strikingly good-looking Twitch sub badges, but tools like EmotesCreator's Twitch sub badge maker are a great option for a situation like that.
EmotesCreator has extremely easy to use tools, and their Twitch emote maker is another example of that. In the sub badge creator tool, you have a fair variety of choices and a good range of colors and symbols to pick from.
The customization options, however, could've been less limited, as the fairly limited customization options are what would be considered the downsides of EmotesCreator's Twitch sub badge maker. But here's to hoping that the tool will have updates soon and that more and more quality designs will be added for more variety in the customization options.
Another feature that EmotesCreator's Twitch sub badge maker lacks is the ability to create sets of badges, as you're limited to create each badge individually. But we think that this is a feature they'll be implementing soon enough.
How to Use EmotesCreator to Make a Sub Badge:
Step 1: Go to the Twitch sub badge maker page, and then go through its different tabs (Base, Icons, Letters, etc.) to choose the preferred elements for your sub badge.
Step 2: Choose the colors for each element of your sub badge. On the right-hand side of the page, you'll find an option for a custom color picker too.
Step 3: Finish the customization, and save your Twitch sub badge design. You'll be taken to a summary page for your badge design, which highlights details regarding the purchase (e.g., All the badges have a transparent background).
Step 4: Click 'Add to cart' to proceed towards the completion of your purchase. You have the option to pay via PayPal and Credit Card.
Step 5: For the sake of variety, repeat the steps above to create some more versions of the badge so that you could have a complete set of sub badges for your Twitch.
Step 6: Add them to your Twitch.
Pricing:
$3.49 per one Twitch sub badge.
Pros of EmotesCreator:
Very easy to use and beginner friendly.
Takes little time, provides good looking result.
Extremely affordable. An entire sub badge set can be created for $20.94.
3. Fiverr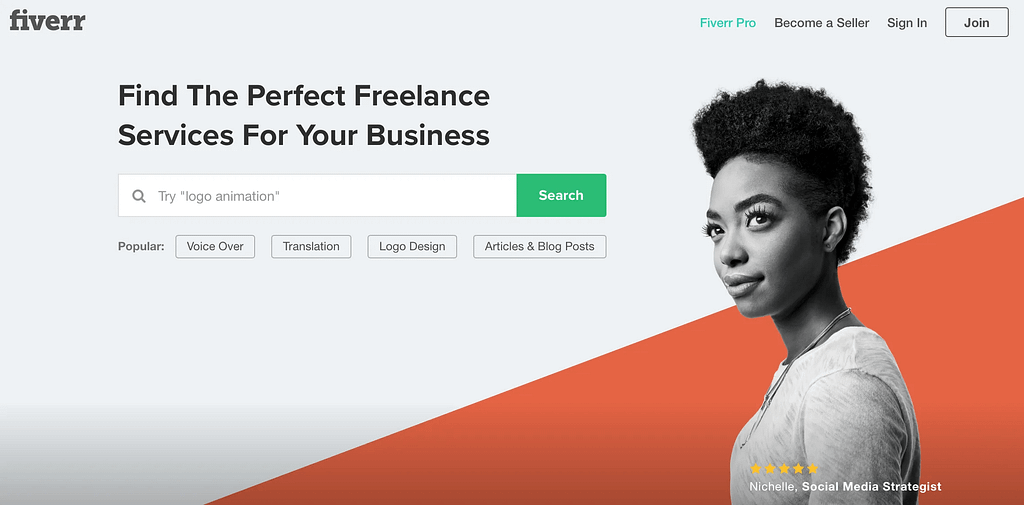 That's right, Fiverr, despite not itself being a Twitch sub badge creating tool. It is especially the best choice if you have a clearer vision for the appearance of your Twitch sub badge. Since the site allows you to find various different services, Twitch-related illustrators shouldn't be ruled out.
The best thing about Fiverr as a Twitch sub badge maker is that it's the easiest tool for the client. All you have to do is specify your ideas regarding the kind of Twitch sub badges you want, and the right service providers will produce the desired result for you.
The timeless downsides of Fiverr as a Twitch sub badge maker are mostly related to pricing and timing. You may not find an affordable service provider for the kind of design you want, and unlike available Twitch sub badge maker tools, you won't immediately have your sub badges available, as the delivery would vary depending on the service.
How to Use Fiverr to Make a Sub Badge
Step 1: Make an account on Fiverr. You're not able to purchase any service on Fiverr without an account.
Step 2: Find the right service for your Twitch sub badge, and read its package descriptions carefully before the order. You can contact the seller if you have any queries regarding the order too.
Step 3: Proceed the order, and pay the seller.
Step 4: You'll then be redirected to a page asking you to specify all the order requirements, which the service provider could use for creating your Twitch sub badge easily.
Pricing:
Is dependent on the service.
Pros of Fiverr:
Due to the services being provided by skilled workers, expect the product's quality to be highly satisfying.
The sub badge specifications will all be met due to no limitation.
4. Canva
If you've ever been into designing social media pages, you might without a doubt know that Canva is quite a popular name. It's a platform with tools for creating all sorts of social media designs, be it YouTube, Facebook, Twitter, etc.
And Twitch is no exception from Canva's list of social media platforms to design. Canva not only features Twitch banner templates, but also some other tools for Twitch, such as a Twitch panel maker, offline banner maker, gaming logo maker, and also a sub badge maker.
It's different-looking from other sub badge maker tools, but provides a vast variety of combinations. The available logos and illustrations can provide your Twitch sub badges a more unique look.
The best facet of Canva as a Twitch sub badge maker is that you can even create the sub badges for free.
How to Use Canva to Make a Sub Badge:
Step 1: On Canva's homepage, click 'Create a Design' at the top right, and then select 'Custom dimensions', which must be equal for a square-shaped template (e.g.: 300×300).
Step 2: Go to the elements tab on the left side of the menu, and browse for the kind options that you want for your sub badge. You can also use the search feature to find specific elements. Note that the elements with a crown icon over them require a Canva Pro account.
Step 3: Customize the selected element. You can change its colors, and resize and reposition it. Add different elements over one another for a unique sub badge design.
Step 4: Since it doesn't let you make a sub badge set directly, you'll have to remake the alternate designs, but this can be made simple by duplicating the first sub badge, and then modifying it.
Step 5: Click the 'Download' button on the top right corner. Even though the files can be downloaded in PNG format, you'll require Canva Pro for downloading the files with a transparent background. But the next steps shall explain how to make your sub badges' backgrounds transparent.
Step 6: Go to Kapwing (the site that removes background from images). Upload your sub badges, and select them with the 'magic wand' tool. Once they're selected, click 'Remove pixels' to make the background disappear.
Step 7: Your sub badges should be ready to use.
Pricing:
Canva Pro:
$12.95 per month (monthly subscription)
$9.95 per month (annual subscription)
Pros of Canva:
The vast number of elements and graphics make your sub badge creations unique and quick.
100% free.
Great number of customization options.
Beginner-friendly, and quick to use.
5. Streamshift
Streamshift provides many free tools and templates, but despite being very affordable, Streamshift's sub badge maker isn't free. While it may not be everyone's cup of tea, it provides a more animated variety for sub badges, and the tool is extremely easy to use.
Not only does it provide the option to pick different colors, but it also enables you to refine the color's RGB, brightness, and hue.
The drawback is that the elements have a similar aesthetic, which would make it functional for only a few types of people, and badges made in Streamshift's sub badge maker would be hard to differentiate.
How to Use Streamshift to Make a Sub Badge:
Step 1: Go to the homepage of Streamshift, and bring your mouse towards the 'Stream store' tab, and click on 'Sub Badges'.
Step 2: Click the different tabs to pick different elements (Back, Icon, and Text) and to make color changes.
Step 3: Adjust the position and size of any element.
Step 4: After completing each sub badge, click 'Add to Bundle', and when all the sub badges are ready, click the cart icon on top right of the menu to check out.
Step 5: Make sure to apply a coupon before checking out, as Streamshift often has discount offers.
Step 6: Upload the sub badges to your Twitch channel.
Pricing:
Pros of Streamshift:
A goofier, animated appearance.
Beginner-friendly, quick results.