Last Updated on February 23, 2022
Streaming is a very tricky business, and keeping people engaged even when you're not available on screen is a key aspect in it.
Having a flashy and unique stream design is very crucial to your success, and Intermission and Be Right Back (BRB) Screens are a huge part of this design.
We have accumulated a list of the best Intermission, BRB Screens and other stream elements sources for you to look through. We ranked them through their options in variety, design and quality; as well as value for money.
So, let's get right into it!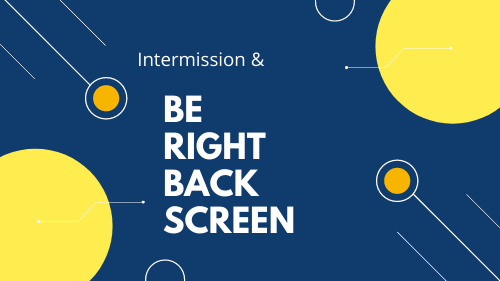 Where to get the best be right back screens?
Below you'd find our list of the best sites to get be right back screens for your streaming channel:
1. Fiverr
Everyone on the internet, looking for some cool designs has heard of Fiverr.
Fiverr is more than just a design hub, you can find people that create anything on this platform from Ghost Writing to designing beautiful BRB screens. If you want to see what kind of options you have for Twitch related things on Fiverr, just search "Stream Screens" on the site and you'll be dazzled by the amount of options you have.
Here is the example we thought was the best looking from Fiverr: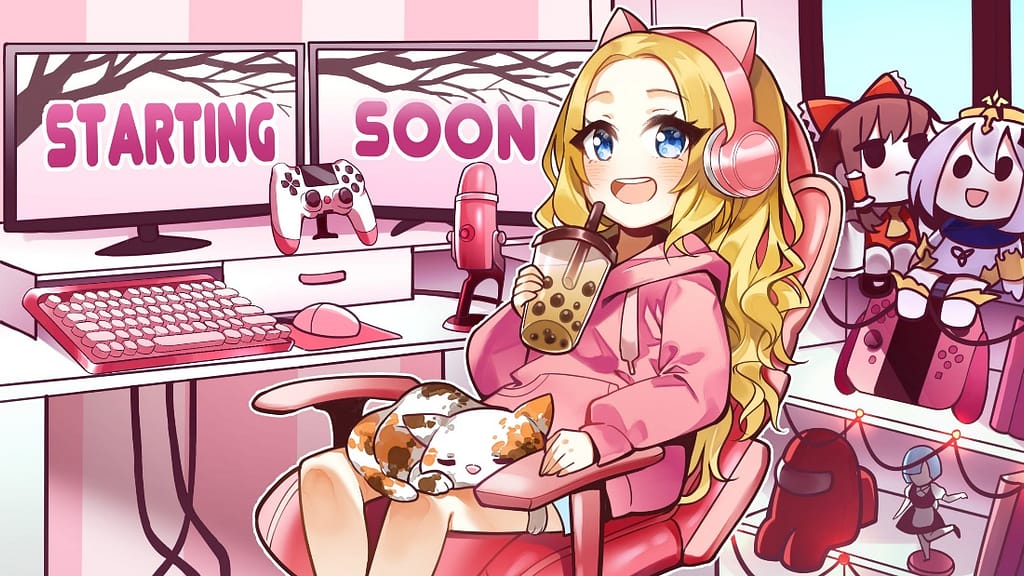 The pricing on Fiverr is varied because people are freelancers on this platform, so they get to choose their own prices. However, you can definitely find great artists and designers within a price range of $5 to $1000, and choose depending on your budget!
2. PLACEIT
The best thing about Placeit is the amount of control you have when selecting or creating your own designs.
For those who aren't aware, Placeit is an online design tool available to everyone. They offer a huge amount of templates that you can edit to your preference. Aside from just Twitch related things, they also offer designs for YouTube, T-Shirts, Social Media imagery and more.
They have a huge catalogue of templates for gamers, including some high-quality Intermission, BRB Screens and stream designs. You just have to choose one of their templates, customize them to your preferences and then download them for use. It is a super easy process!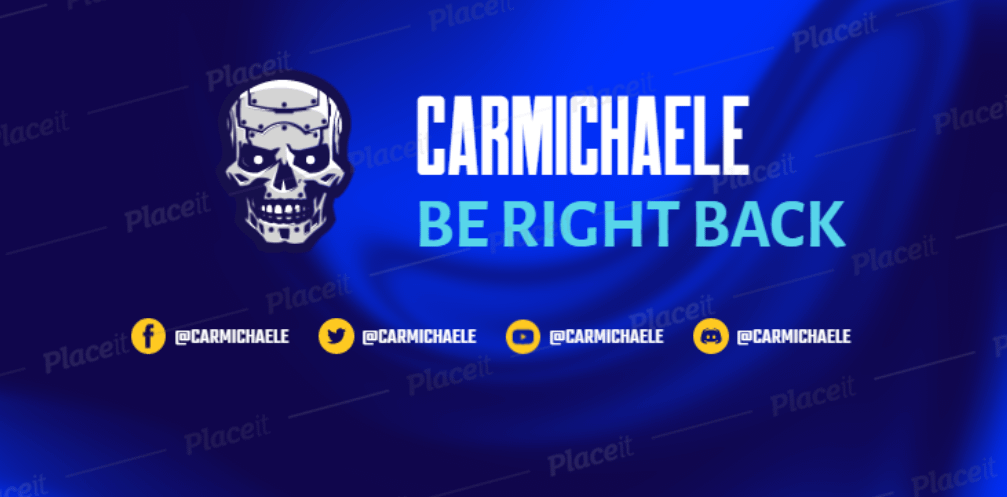 The prices here are super cheap for the most part, and they even offer monthly subscriptions that cost $14.95 for unlimited free templates that you can edit and use on your streams. These include Intermission and BRB Screens.
3. OWN3D
OWN3D is the best place to look for when you're in need of only the most incredibly high-quality stream designs.
Most of their templates and stream designs show up in packs, which usually have BRB Screens included and can completely revamp your entire stream in the best possible way.
However, if you're not in the mood for packs, then you can browse their library of individual items for brb screens and there is a ton of variety to choose from there.
The prices here are pretty expensive, but their designs are definitely worth it. You can get individual designs from $17 to $34, and you can get full packs from $33 to $109.
4. VISUALS BY IMPULSE
Visuals by Impulse are known for creating some of the flashiest stream designs in the market.
Most of what they offer are stream designs and templates, these usually come in packages and include BRB Screens in these packs. They also offer some stream screen packs which are completely available for free.
They can be expensive, but if you do have a heavy wallet then you can should definitely check out Visuals by Impulse and their incredibly cool designs.
Ranging from $0 – $30 from stream packs which include BRB Screens and other templates. Whereas the custom design prices vary, depending on how much work each one will take.
5. NERD OR DIE
Nerd or Die has the most classy, elegant and sometimes bombastic designs for any streamer.
They offer only the best quality stream design packs, and their services are usually very fast and precise. They mainly deal in stream packs which include everything that your stream could need.
The prices here are quite reasonable, there are a bunch of free templates that you can use as well as "Name Your Price" templates, in which you determine the price yourself. There's also the usual $1 to $10 for individual stream templates, as well as $10 to $40 for stream packs.
6. STREAMLABS
Streamlabs has a bunch of designs from multiple different sources such as Nerd or Die, Visuals by Impulse, OWN3D and Gael Level. Their catch however is that you must be signed and subscribed to Streamlabs Prime (their premium offering) to access a vast majority of these designs.
But they do offer a bunch of free templates to choose from, so if you're tight on a budget then check them out!
There are a bunch of free stream packs to get here, more than a hundred to choose from. However it costs $19 to get their Prime subscription, which unlocks mostly everything for you and it's just a useful thing to have.
7. STREAMELEMENTS
StreamElements is one of the best platforms for streamers and designers alike.
They offer a plethora of free designs, as well as the option to customize them in their online editor. If you're a StreamElements user, you can edit and add your chosen designs to your stream within a few simple clicks. It is a very streamlined process.
The best thing about StreamElements is that everything they offer is completely free. They have some of the most well-made community designs for Twitch, and you have access to these completely free of cost.
8. MEDIA MODIFIER
Media Modifier is just like Placeit, as it offers a bunch of different templates and stream designs to choose and edit on their own online editor.
Their tool is extremely simple and easy to use, with a ton of customization options. However, they have a small amount of variety, only having Twitch Banners and YouTube channel art templates though the whatever they have is of very high quality.
They have a couple of free templates; however these usually have watermarks. But if you get their monthly subscription which only costs $19, you can have access to unlimited templates.
9. GAEL LEVEL
If you're looking for fairly low prices, and some incredibly smooth designs to make your streams pretty, check out Gael Level.
The graphic designer, streamer, and YouTuber designs his own stream packs which you can get on his shop "Gumroad".
Most of these designs are VERY high quality, and what makes them better is that 90% of them are all completely free!
10. CANVA
Canva is an online tool which lets you create your own designs including stream designs and packs, and it's very simple to use since it doesn't require much design knowledge.
It doesn't have a huge variety in terms of Twitch related templates, but this is something that the developers are working on to change!
Most of their content is completely free, however some templates are limited to their monthly subscription which only costs $13.99 per month.
11. ETSY
Etsy is a cute little platform where you can buy many things, including stream designs.
You can also hire artists and designs here to design specific things for you, including twitch templates and BRB Screens. Most of the designs on Etsy are premade though which you can buy, but there is a decent amount of variety here and they're mostly all really cool.
The prices can vary a lot here, but you can usually find some really cool designs from the price range of $5 to $35
12. SNAPPA
Snappa is one of our favorites to choose design templates from, their stuff is usually made for hardcore gamers.
They also offer an online design tool which lets you customize their templates and put your own spin on it!
You have three free downloads per month, which is quite cool in itself. However if you want unlimited downloads, you can get their $15 per month subscription or their $120 per year subscription!
13. STREAMPLAY
Like most of the other sources on the list, Streamplay consists usually of stream packs which have everything you need to brand your stream to your liking, including BRB Screens.
They have some really eye-catching designs on display here, some of them being quite cheap too!
You can get offline banner templates ranging from $4.99 to $7.99. However if you want stream screen packs, you can get them for a cheap price of $4.99 to $5.99. Stream Packages however are the most expensive and have the most content inside of them, costing from $7.99 to $19.99.
14. MATTOVSKY
Mattovsky is one of the most popular designers in the current Twitch climate. While his content might not be the work of a proper organization, his designs remain some of the best looking out there.
The best thing about Mattovsky's content is that you simply just need to Subsrcibe to his YouTube channel to get access to his designs. Completely free of cost.
15. BEHANCE
Just like most of the other platforms cited in this guide, Behance also has a bunch of independent creators working on it. It is essentially a Fiverr but exclusively for designers, but the best part is that there are a bunch of free stream designs here for you to use!
The price ranges vary, but there are so many free stream screens, especially the BRB Screens and Starting Soon screens that you can pick from. It's an actual gold mine for stream related things, and the free aspect is what makes it so user friendly!
So that was our list of some of the best sources from where you can find the best Intermission, Offline and Be Right Back screens to give your Twitch streams a brand-new coat of paint!
These are tried and tested, and are some of the most trustworthy sources for this type of content! For more information on everything Twitch related, make sure to check out our other guides!